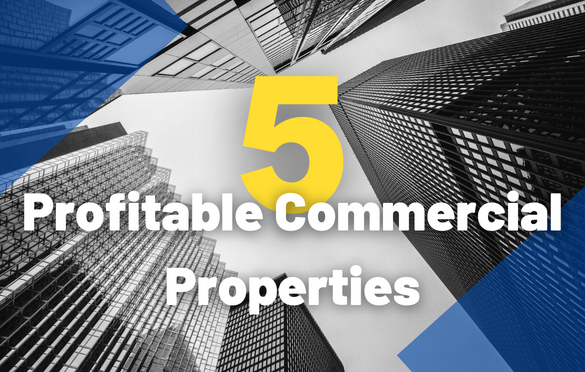 The 5 Most Profitable Commercial Properties
bizexadmin, 10 months ago
0
3 min

read
164
Here are the Most Profitable Commercial Properties.
Student Housing
Student Housing is deemed profitable commercial property due to there being many units sold as well as the high demand for student housing. Students are constantly looking for housing no matter what. You can increase the price to any amount you want. There are also limited working and office hours for deciding how early or late you want to close. There is potential for long-term housing especially if a student doesn't want to move and find different places each year.
Apartments
Apartments are in high demand and with the housing crisis on the rise globally, this is a great investment as many people are in need of housing. This is extremely profitable as people are paying monthly for rent. Depending on how many units there are in that apartment you can make as much as $150,000+ a month. It is also not a risky investment as people will always be in need of a new home. If you invest in apartments, you can also get tax benefits compared to other commercial properties. It also helps build equity over time as the property appreciates over time.
Office Buildings
Office Buildings are profitable for renting out to many different companies. The only risk with office buildings is that they can create a loss if companies decide to switch to a remote work setting. Getting an office building can help diversify your portfolio and adapt to different industries using the office space. 
Retail Space
With commercial retail space, tenants pay maintenance fees, property tax, and insurance. If there are already tenants in the plaza when you purchased it, you can choose to keep them in the plaza or have them leave once their contract is over. Also when you buy out a commercial plaza, the deposit is lower compared to typical residential properties. There is lots of availability for any tenants to be a part of your commercial retail space.
Flex Industrial Spaces
Flex industrial spaces are a hybrid of office space. It's a good alternative if you don't want to commit to having a full office space. Its low-cost renovations allow you to customize it in the way that you want. Flex industrial spaces are triple net leases, which means that it has the potential to bring in more income than the average commercial property. Instead of short-term leases, these tenants tend to stay a very long time which means maintenance fees and other fees will be paid by the tenants. Triple net leases tend to have a really high return on investment (ROI)
How To Find Commercial Real Estate Listings
Business Exchange has been helping Commercial Real Estate Brokers for over 20 years, helping them sell their listings. Find commercial properties for sale, commercial buildings, office space, and land for sale. All commercial property listings can be found here. You can also find commercial brokers and get in touch with them.