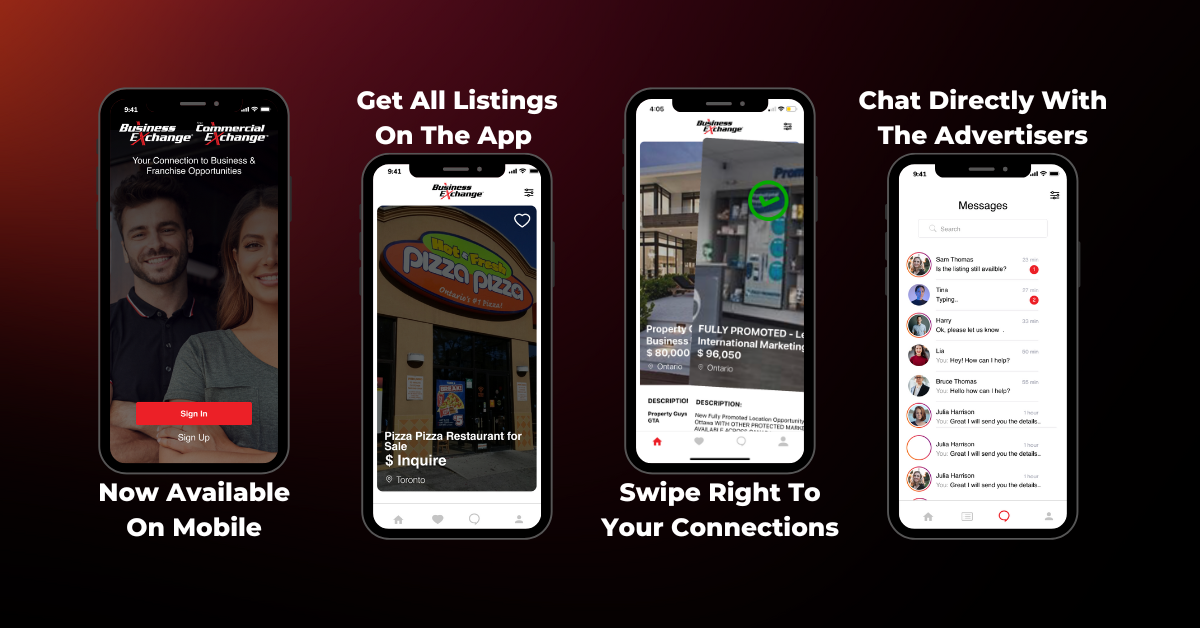 Launch of New Business Exchange Mobile App
bizexadmin, 1 year ago
0
3 min

read
100
The new mobile app will be a game changer for the Business & Franchise Marketplace
The Business Exchange Corp. has released a new mobile app. The app had a soft launch at the Toronto Franchise Show, and thousands of people took interest in it. Franchisors and franchisees were interested in the app. The turnout of people being satisfied with the app overall was high. The Toronto Franchise Show had many different franchise vendors taking interest with listing their franchise listings on the app. Many people have said the user interface was "more convenient, and less time consuming" compared to the website itself.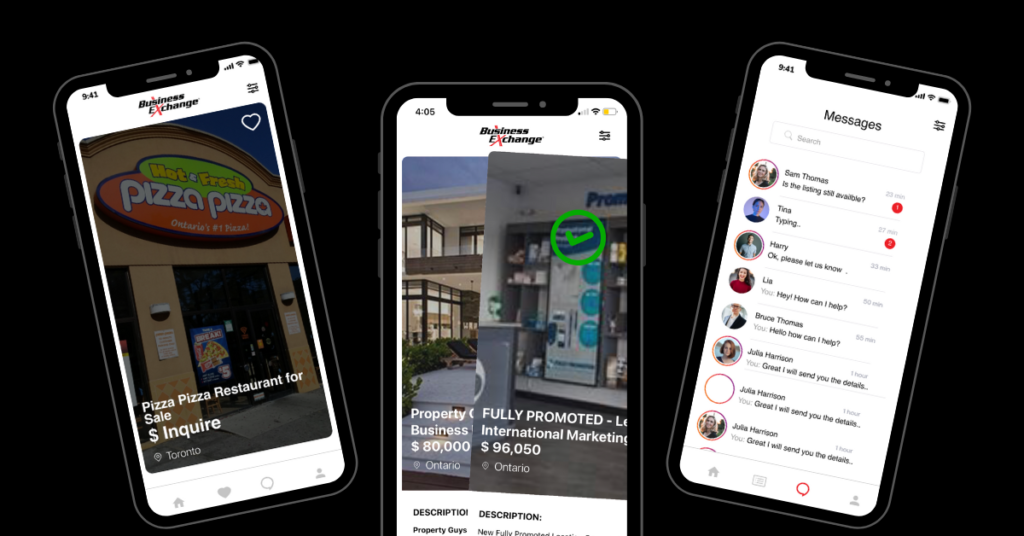 Available via IOS and Android, the mobile app consists of various listings from businesses, franchises, and real estate. Instead of scrolling endlessly on the website, with one swipe, people can now find all the information about that specific listing. The app is designed to help people save time when researching companies and looking at listings. It does this by allowing users to quickly view photos of listings and get an overview of all their options.
With the new mobile app, people can directly contact the listing agent all in the app with no complications. The "one swipe" option on the app allows users to swipe left if they're not interested in a listing, and right if they are. If a user is interested in a listing, the app will send a notification to the advertiser about their interest without any action required from the user. People can also find specific categories for listings and find their preferred price point for listings.
With the convenience of just a swipe, people can find a suitable listing just for them in a matter of a couple of minutes. There are 6 main categories, including Businesses for sale, Franchises for sale, Commercial Real Estate, Business Services, Wanted Ads, and Pre-Construction Properties. With 47 selected industry categories there is a variety of businesses to choose from to suit anyone's interests
La nouvelle application mobile changera la donne pour l'entreprise et le marché de franchise.
The Business Exchange Corp. a lancé une nouvelle application mobile. L'application a fait l'objet d'un prélancement au Toronto Franchise Show et des milliers de personnes s'y sont intéressées. Franchiseurs et franchisés étaient intéressés par l'application. Beaucoup de gens étaient très satisfaits de l'application mobile. Le Toronto Franchise Show avait de nombreux vendeurs franchisés différents s'intéresser à annoncer de leurs franchises sur l'application. Beaucoup de gens ont dit que l'interface utilisatrice était « plus pratique et moins longue » que le site Web lui-même. 
Disponible via IOS et Android, l'application mobile se compose de diverses annonces d'entreprises, de franchises et de l'immobilier. Au lieu de défiler continuellement sur le site Web, avec faire un glisser, les gens peuvent maintenant trouver toutes les informations sur cette annonce spécifique. L'application est conçue pour aider les gens à gagner du temps lors de la recherche d'entreprises et la recherche d'annonces. Il le fait en permettant aux utilisateurs de visualiser rapidement les photos des annonces et d'obtenir un aperçu de toutes leurs options.
Avec la nouvelle application mobile, les gens peuvent contacter directement l'agent d'annonce tout dans l'application sans complications. L'option « un glisser » sur l'application permet aux utilisateurs de glisser vers la gauche s'ils ne sont pas intéressés par une annonce et vers la droite s'ils le sont. Si un utilisateur est intéressé par une annonce, l'application enverra une notification à l'annonceur sur leur intérêt sans aucune action requise de l'utilisateur. Les gens peuvent également trouver des catégories spécifiques pour les annonces et trouver leur point de prix préférés pour les annonces.
Avec la commodité de faire glisser, les gens peuvent trouver une liste appropriée juste pour eux en quelques minutes. Il y a six catégories principales, y compris les entreprises à vendre, les franchises à vendre, l'immobilier commercial, les services aux entreprises, les annonces recherchées et les propriétés avant construction. Avec quarante-sept catégories d'industries sélectionnées, il y a une variété d'entreprises à choisir pour répondre aux intérêts de tous.